Wall Quote Stickers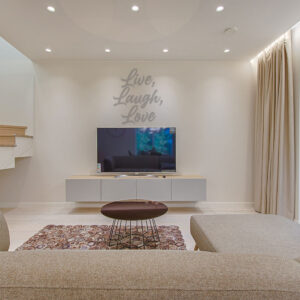 Wall quote stickers are the perfect way to add personality and flair to any room in your home or office. They are an easy and affordable way to transform a space, making it feel more comfortable, inviting and reflective of your personal style.
These vinyl wall decals are not only visually appealing but also provide motivation and inspiration. Whether you're looking to add a touch of humour to your bathroom, a motivational quote to your home office, or a love message to your bedroom, wall quote stickers have got you covered. You can choose from an extensive collection of quotes, phrases, and sayings that perfectly suit your mood, personality, and style.
Not only do they provide instant gratification with a quick and easy installation, but they also offer versatility in terms of design and style. You can choose from a wide range of fonts, sizes and colours, to ensure that your wall quote sticker fits perfectly with your décor. Wall quote stickers are an excellent way to inject a pop of colour into your room, making it look lively and refreshing.
Another great advantage of wall stickers is that they are removable and won't damage your walls. You can change up the look of your space as often as you like without worrying about repainting or leaving a sticky residue. This makes wall quote stickers ideal for people who rent as you can take them down when you move without damaging your walls.
Our vinyl wall decals come in an array of colours and quotes so there is something for everyone! Whether you're looking for cute wall quotes for your living room or an inspiring quote for your office. We got you covered! Why not jazz up your space with our wall stickers and get inspired today!