The Perfect Gift: Personalised Glasses for Every Occasion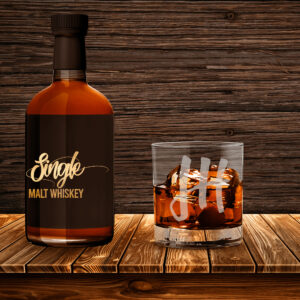 Personalised glasses are the perfect way to add an extra touch of style and sophistication to any gathering or occasion. With a wide variety of shapes and sizes, it's easy to find the perfect glass to match your personal style and make a lasting impression on your guests.
Whether you're hosting a wedding, anniversary or other special event, personalised etched glasses are an excellent way to add a touch of elegance and personality to your celebration. With a customised message, logo or design, you can create a unique and memorable keepsake that your guests will treasure for years to come.
Another advantage of personalised glasses is the way they can add a touch of luxury to your event. Engraved wine glasses, or custom beer glass and personalised glassware can make even the most basic beverages feel like a special treat. This can be especially effective when serving signature cocktails or other unique drinks that you want to highlight.
The Types of Etched Glasses You Can Choose From
Of course, personalised drinks glasses are also a practical choice for any event where guests will be enjoying beverages. With their own customised glass your guests won't have to worry about accidentally picking up someone else's drink or losing track of their own glass. This can help prevent confusion and mix-ups, making your event run more smoothly.
When it comes to choosing the right personalised glasses for your event there are plenty of options to choose from. Some popular choices include:
Engraved wine glasses: Perfect for formal events and wine tastings, engraved wine glasses are an elegant and timeless choice that will never go out of style.
Custom beer glasses: Ideal for more casual events like BBQs and outdoor gatherings, custom beer glasses can be a fun and playful way to add a personalized touch to your party.
Personalised shot glasses: A classic choice for bachelor and bachelorette parties. Personalised shot glasses can be a fun and light-hearted way to celebrate with your friends.
Etched Drinks Glasses: Elevating Your Drinking Experience
No matter what type of etched glasses you choose they are sure to be a hit with your guests. By adding your own personal touch to each glass, you can create a unique and memorable keepsake that will make your event stand out from the rest.
If you're looking for ways to promote your brand or business personalised etched glasses can be a powerful marketing tool. By etching your logo or message on each glass, you can create a lasting impression that will stick with your customers long after the event is over.
This can be especially effective for businesses in the food and beverage industry, such as restaurants, wineries and breweries. By offering customised glassware to your customers, you can create a sense of brand loyalty and establish yourself as a company that pays attention to the details.
Personalised drinks glasses are an excellent gift idea for friends, family and loved ones. Whether you're celebrating a milestone birthday, graduation or other special occasion a customised glass can be a thoughtful and practical gift that will be cherished for years to come.
With so many options to choose from, there's no reason not to add a personal touch to your drinks glasses. From engraved wine glasses to custom beer glasses, personalised glassware can help you create a unique and memorable event that your guests will never forget!