CUSTOM T SHIRT PRINTING
Custom T Shirt Printing. Ever stuck for customized or commercial printing? Well we've got you covered! So when you are ever stuck give us a shout!
We desire to assist to small, medium and large businesses develop and with development increasingly more advertising material required to printed. That's where we are available. We wish to take the stress of printing from you so that you can focus on other more very important jobs.
CUSTOM T SHIRT PRINTING
We can achieve essentially any advertising printing you need from vinyl wall decals, business card, t shirt printing and a lot extra! Customers can spruce their rooms up whether it be the workplace or your front room. we can deliver all sorts of custom designed goodies to fit your needs!
There is so many products we're able to customize, even for the house! If you're local we are able to come and fit your vinyl decal on your domestic wall. for a small charge or you may well take on the task yourself. We will supply information on all DO IT YOURSELF vinyl decals and other items you are able to transfer/print yourself.
CUSTOM T SHIRT PRINTING
Customers can enjoy customizing a range of goods with Brand Bandits. If you fancy a custom mug or a custom vinyl wall decal you can count on us getting it correct. Our staff have years of retail and printing experience so we don't fall short of 100% customer achievement!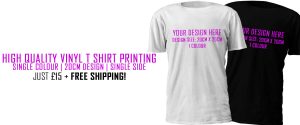 We can supply you with DIY ( Do It Yourself) decals for your home, office and vehicles. Each and ever order of DIY will get instruction sheets that will help you along the way to making your absolute best vinyl decal. We may also give you design recommendation on products if you are unsure about. You can believe in us by supplying you with 100% customer satisfaction and experience!
Check out our full customizable ranges by visiting our shop!